Roald's Shirt
The rain had soaked through my hat and had my shirt clinging to my chest. But it was a warm southwest Virginia summer rain, and like the fly rod ad says, "Rain delays are for baseball games." So my cousin Roald Kirby and I stood out there in Fox Creek, on his property in Grayson County, and kept tossing our flies into the rapids and riffles. He'd already caught and released a couple of rainbow trout and we were coming around the corner to the big deep hole. We always get a few bites there and usually land a fish. That, and there's at least one monster brown parked at the bottom of the hole.
I know because I hooked him 2-3 years ago. I was drifting a bead-head nymph through the rapid at the head of the pool and letting it tumble down into the depths. On this one drift, the line stopped and suddenly my rod doubled over. "Whoa!" Roald's face broke into a huge grin – "You've got a big brown!" For a few seconds, yeah, I did. Then that fish did whatever it is that allows big browns to become monster browns – ran my line around a log probably – and I was left with a painfully straight fly rod, and no fly on the end of my leader.
So I was thinking about big brown trout, not the rain, as Roald and I fished up toward that pool. Which meant that by the time he and I made it back to his house, we were soaked. Now, walking into the Kirby home, a 75-year-old farmhouse, is one of the best feelings I know. Roald lives there with his wife, Ellie, and their daughter, Rosie, and their home emanates warmth and comfort. The meals served on their kitchen table are always incredible, probably because many of the ingredients come from the garden in their back yard. Pies baked from the apples that grow near the porch. But of course the real warmth comes from the residents, and the Kirbys do that like few other people I know.
So I wasn't surprised when Roald brought me a dry t-shirt when we got into the house – "Here – you can't stay in that wet thing." The dry shirt had a caricature of a trout jumping at a fly, and the caption "Going Online". I wore the shirt back home that evening, and, well, you know how it goes – it got into my suitcase and back to California and thence to the Isle of Man before I knew it.
Seeing that shirt would remind me of the Kirbys and the Blue Ridge Mountains, so I'd take it on trips with me as a sleep shirt – it's nice to have a bit of home with you when you're bedding down in a London hotel.
But when I went back to the States last fall, I took the shirt with me and gave it back when I visited them. "Here Roald – your shirt, it's been quite a few places now, and I sure appreciate borrowing it from you." Roald chuckled, "Well, you know Lee, I reckon this shirt won't be happy stuck here in rural Virginia now that it's seen the world. You better take it with you back on the road."
Well, for over a year now, that shirt's been a constant companion of mine – a fair amount of traveling for PokerStars, and even more for the EPT . It's been to the Bahamas, Vienna, Warsaw, Dublin , Moscow, Copenhagen, Monte Carlo, and a few other places I'm probably forgetting. I remember washing it in the shower in Barcelona and hanging it up to dry over the tub.
As I write this, Lisa and I are on the train back to Liverpool from London. We walked from the Hilton on Edgware Road down through Hyde Park this afternoon, stopped to visit the memorial fountain for Princess Diana (one of the most beautiful, peaceful memorials I've ever seen for anybody, anywhere), and the Prince Albert memorial. Then we stopped into Whole Foods and caught the tube back to the hotel, picked up our bags, and grabbed a taxi to Euston Station.
I've been wearing Roald's t-shirt all day. Cousin, you and Ellie and Rosie keep things going back there in Grayson County. This shirt and I will be back in a bit; you and I will certainly have a few stories to swap.
While we're standing hip-deep in Fox Creek.
——————–
P.S. I got the idea for this piece from Tim O'Brien's song, "Kelly Joe's Shoes". Thanks, Tim, for a great song.
P.P.S. The picture below is Roald and me on his front porch. He's telling me about the huge brown trout he almost caught because that trout inhaled a smaller trout he'd hooked. He claims that a bunch of staff at a nearby hatchery witnessed the entire event. I wouldn't believe this story from too many people, but I believe it from Roald. Note the rope ladder to Rosie's tree house in the background.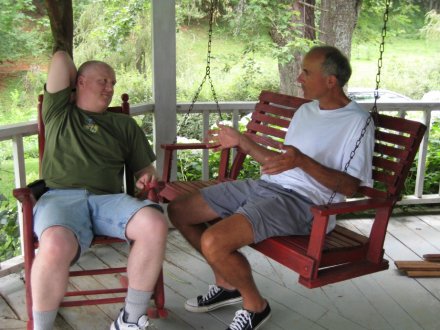 Posted by Lee Jones on October 2nd, 2007 in Stuff.
Comments: 2
Play Poker
Play Poker Against Lee Jones - sign up now to play in the monthly tournament with all Bigger Deal's writers
Comments