2008 WSOP – Day 2b
In the official programme for the 2008 World Series of Poker, there's a list of the Top Ten WSOP 'pioneers', i.e. those who shaped and/or changed the history of what is now the biggest (and richest) 'sporting' event on the planet. At No 1 is the man who started it all, Benny Binion, followed (quite rightly) at No 2 by Eric Drache – the WSOP's longest-serving tournament director (1973-1989), who 'instituted most of the improvements' – among them, the satellite – 'which made the World Series the year's biggest poker spectacle'.
There follow such legendary names as 'Amarillo Slim' Preston, Jack Binion, Henry Orenstein, Jack McClelland and dear old Henri Bollinger before, at No. 10, we find the name of – well, I never – Anthony Holden, 'still' (it says here in the prog) 'a highly-respected British journalist', whose 1990 book Big Deal 'became the first poker best-seller.'
Don't tell Al Alvarez, author of The Biggest Game in Town (1983), who has good reason to dispute that judgement. But he did get a mench in last year's prog (don't you remember, Al? I brought a copy home for you). And Alvarez was high on the list of big poker names affectionately on our lips last night when WSOP Pioneer No 2. bought No. 10 dinner here at the Palms. Eric, who had no idea he was on the list, reminded me that he came up with the idea of the satellite some years before 1983, when Tom McEvoy became the first world champion to have won his way into the event via a one-table $1,000 sit-n-go (as it would be called these days).
The $10,000 entry fee was a lot of money in those days – still is, for most of us. Big Deal would never have happened if I hadn't won a $1,000 satellite in 1988, to find myself up against main-event players from Johnny Chan and Stu 'the Kid' Ungar to Mike Sexton and Telly Savalas. Back then, $1,000 was a lot of money to me. And yes, since you ask, still is. To the ever generous Eric Drache, who has sure known bad times as well as good, these days it's a fine-wined dinner like last night's.
Next morning, No. 10 WSOP Pioneer finds himself the only one on the list doing battle in today's Day 2b of the 2008 world-title event, among more than 2,000 other survivors from 6,844 starters hungry for that $9 million first prize. So now there will be a (long, I hope) delay while I head off to the Rio to go for broke. Or not, as the case may be…
Seven hours later : Broke it turned out to be. Dem, as dey say in dese parts, is de breaks. But at least I went out with a bang, not a whimper – the grisly details follow – as The Hat will bear witness (Tony in the Hat).
Turns out there are 2,379 starters today, Day 2b, almost twice as many as the 1,251 of yesterday's Day 2a. It is, we are told, the largest restart in WSOP history. Among those playing today are Phil Hellmuth, Johnny Chan, Chris Moneymaker, Gus Hansen, Howard Lederer, Mike Matusow, David Sklansky, Phil Gordon, Shawn 'Sheiky' Sheikhan and Clonie Gowen. And me. The All In free drinks are here again, but the Everest cushions have gone awol. During the first two-hour session, I increase my stack from 19K to just over 30, which is a decent enough percentage for any level. After half an hour, my set of eights on the turn knock out a short-stack and bump me up to 27, as recorded for posterity (with another pic of The Dude in the Hat) in Steve Bartley's somewhat sassy PokerStars blog.
Over the next 90 mins, I show the table A-A and Q-Q when taking down pots – something I normally rise above, but in this instance it proves good for my rock rep, enabling me to make a few judicious subsequent steals. First hand after the break, I get A-A again – under the gun, dammit, so my emphatic raise does not get a caller. But I'm beginning to feel confident. Always a bad sign…
Then I am moved, from Orange 34 to Blue 22. Now that may be my lucky number (and my birthday), but we all know that it's unlucky to be superstitious. Proud as I am to need a rack to carry my chips, there is a guy with a HUGE stack running this table, and my cards go stone dead for an hour. And more. With 30 minutes to go till the next break, I am back down to 22K when I look down to see pocket nines, the best hand I've seen since I arrived at this table. So boldly all-in I go… and no-one calls. Of course they don't, as expected; I haven't played a hand in an hour. But a couple of subsequent steals, with the blinds at 300-600 and 75 antes, soon see me back up to 30K.
Then come pocket tens, both black, in the cut-off seat. Seat Five raises to 2K, and Seat Six calls; so I just flat-call, too. When the flop comes 3h-4d-8d, both check to me, and I bet out 6K. Both, after some thought, call. The turn brings (Y-e-e-e-s!) the 10h. Both check again, so I push all-in.
This is my chance to double up beyond the current average to 60K, maybe even triple up! Seat Five goes into the tank for a while, then folds. (Must have had a middling pair). Six muses even longer, as I hide all available facial tells beneath the brim of my PokerStars stetson. Eventually he calls – and grimaces when I roll over my set. All he has is a (low, as it happens) heart flush draw. Anything but a heart! There are a maximum of 9 left among the 44 unseen cards, so I'm a 4-1 favourite. But the river, of course, comes… Kh.
Exit – gracefully, of course – Yours Truly.
Now I am just another statistic in a body-count that has grown with amazing speed, as more than a third of today's players – all of 800-900 – have been eliminated before me. Among them were reigning champ Jerry Yang, Howard Lederer, Antonio Esfandari, Clonie Gowen, Isabelle Mercier, Matt Savage, Steve Dannenmann, Archie 'The Greek' Karas, and the oldest player in the tournament, 95-year-old Jack Ury (who says he'll be back next year, 'if I'm still alive!').
As I head towards the 120-degree smoking zone for that disconsolate annual Benson & Hedge, morosely musing 'Top third, as usual, but no dough, ditto', a PokerNews blogger factors in yesterday's 466 Day 2a survivors and excitedly tells me I came exactly 2,000th out of this year's 6,844 starters. How the heck he worked that out is beyond me. But I've decided to tell people 1,999.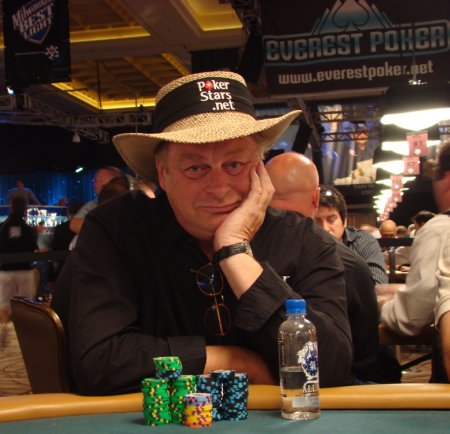 Pic credit : pokerfolio.com Go Back
Posted by Anthony Holden on July 10th, 2008 in Celebrities, WSOP.
Comments: 3
Play Poker
Play Poker Against Anthony Holden - sign up now to play in the monthly tournament with all Bigger Deal's writers
Comments