2008 WSOP – Day 7
One Dane, one Russian, two Canadians and five Americans. We have our 'November Nine'.
It took until 3.30 a.m. on the 11th gruelling day of the tournament for Dean Hamrick of Minnesota to be eliminated in tenth place after some 15 hours of play, which had started at noon with the last 27 of the 6,844 starters in the Main Event of the 39th World Series of Poker.
Play was eventually suspended with 20 minutes left of Level 33, when the final nine were told by tournament director Jack Effel: 'Players, you may now go on your 117-day break!'
The all-male 'November Nine', who will return to the Rio on 9 November to fight it out for the $9.12 million first prize and the title of 2008 world champion of poker, are:
Seat 1: Dennis Phillips (Illinois) – 26,295,000
Seat 2: Craig Marquis (Texas)- 10,210,000
Seat 3: Ylon Schwartz (New York) – 12,525,000
Seat 4: Scott Montgomery (Canada) – 19,690,000
Seat 5: Darus Suharto (Canada) – 12,520,000
Seat 6: David 'Chino' Rheem (Florida) – 10,230,000
Seat 7: Ivan Demidov (Russia) – 24,400,000
Seat 8: Kelly Kim (California) – 2,620,000
Seat 9: Peter Eastgate (Denmark) – 18,375,000
All are taking home the ninth place prize money of $900,670; the rest has been banked by Harrah's, to earn interest until November. The prize money has been announced as follows:
8th $1,286,672
7th $1,769,174
6th $2,412,510
5th $3,088,012
4th $3,763,515
3rd $4,503,352
2nd $5,790,024
1st $9,119,517
These nine are now frozen in time until mid-November. They have four months to seek out sponsorship deals as well as final-table coaching, expert scrutiny of ESPN's coverage of the opposition, and (if they choose) to start doing deals.
I suspect there will be a sense of letdown in November, compared with the frenzy that usually accompanies the final table of the main event – a tense continuation of the exhausting two-week marathon (which took a mere four days when I first played in it in 1988). Most 2008 players have already gone home, and few will return to watch the endgame, which will be broadcast on ESPN within 24 hours, after four months of build-up.
American poker devotees who want to watch 'as live' will thus learn what it is like in Blighty for diehard football fans, who struggle for hours to avoid hearing the footy results before Match of the Day. The atmosphere in the Rio card-room will likely be much less crazed than usual, as the gallery is thinned down to family, friends and backers.
The startling decision to postpone the final table was jointly made by the WSOP, ESPN, and the WSOP Players Advisory Council, who enigmatically say they 'look forward to documenting all of the exciting stories that make the Main Event the seminal competition in all poker.' Let's hope all those stories are positive ones. There has been much dissent around the Rio all fortnight about this bold new twist to the climax of the WSOP.
WSOP Commissioner Jeffrey Pollack has called it an 'experiment', designed to broaden public interest in poker, which will be repeated only if it is deemed to have been a success. He added tonight: 'Our intent is to provide an even stronger tournament for all players and the entire poker industry.' Fans would now spend four months asking 'Who will win?' rather than 'Who won?' The 'excitement and interest' surrounding the final nine players would now be 'unprecedented.'
Well, the jury is out on that one, and won't return till mid-November. But let's all hope the gamble pays off. For now, there's a general feeling that all this is likely to benefit ESPN more than poker.
It cannot be denied that it's been a vintage World Series this year. But it feels really odd to be heading home without knowing who won. Home I now go, however, to watch November's finale from 5,000 miles away.
'Six of the Nine are PokerStars players!' Picture: Neil Stoddard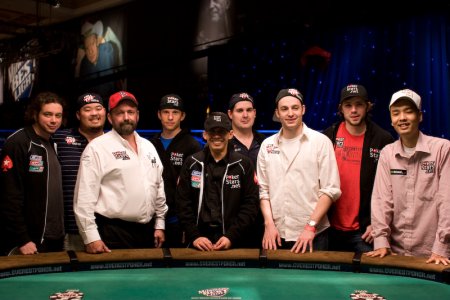 From left to right : Ylon Schwartz – (FTP) – Dennis Phillips – Peter Eastgate – Darus Suharto – (FTP back) – (FTP front) – Ivan Demidov – David Rheem
The six named are PokerStars players, the other three Full Tilt players
Posted by Anthony Holden on July 15th, 2008 in Celebrities, WSOP.
Comments: 6
Play Poker
Play Poker Against Anthony Holden - sign up now to play in the monthly tournament with all Bigger Deal's writers
Comments